 Accelerate Your Electronics Production with Dymax Speedmask® E-MAX 906-B Revision A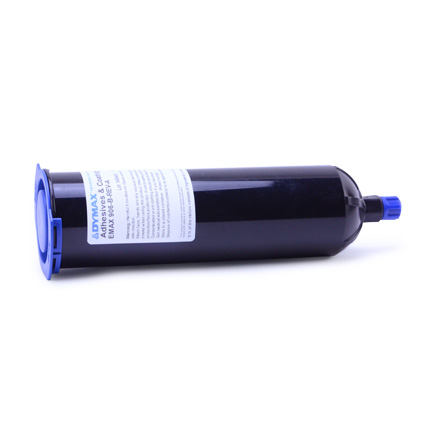 Dymax Speedmask® E-MAX 906-B Revision A
Boost the speed and productivity of your electronics assembly line.
During the assembly of circuit boards and other sensitive electronic components, your company needs a reliable masking agent. Masking methods differ, and your choice may both speed up manufacturing and increase the reliability of the finished products.
Many masking solutions are latex or water-based, and while these have served their purpose for years, they have their drawbacks. For instance, cure times for these masks can be 20 minutes or more, adding racking time and slowing down the assembly line. More recently, manufacturers have responded to the falling costs of ultraviolet equipment by embracing UV-cured acrylated urethanes such as Dymax Speedmask® E-MAX 906-B-Rev-A.
Why use Dymax Speedmask® E-MAX 906-B-Rev-A?
If your company runs its assembly line at too small a scale for UV equipment or conveyor systems to be cost-effective, a Speedmask product may not be right for you. For all other manufacturers of high-tech components, however, the advantages of this masking agent are considerable, and they include the following:
Quick curing capability
Perhaps the most notable advantage of using a UV-cured acrylated urethane as the mask in an electronics assembly process is that it is fast enough to speed up your manufacturing operations on the whole. Thus it allows you to create an automated assembly line without long racking times. If you anticipate high-volume orders of your latest component, such an acceleration could dramatically increase your potential profits.
With a cure time of just 3-60 seconds, depending on the equipment setup, this Speedmask product is a key ingredient in new types of electronics manufacturing processes. Throughput can rise dramatically, with automated application of the mask or the use of full-scale conveyor belt systems becoming options for manufacturers.
Easy removal process
Not only is 906-B-Rev-A quick to apply and cure, it is quick and simple to remove. It peels away from the circuit board, allowing the assembly line to keep moving. Acrylated urethanes typically have strong bonding qualities, but this particular formulation is soft enough that there is no need for extra equipment or steps to peel it off the component.
In addition to its useful peeling qualities, the Speedmask product has a translucent blue color. This is helpful in several senses. First, it allows for quality control, to ensure the parts of the circuit board that have to be sealed during manufacturing have indeed been covered. It also allows for easy inspection when it's time to peel the mask off. If any of the mask has been left behind, its blue color will help personnel spot it immediately.
No Silicone & Halogen Free
If your facility does not allow the use of silicone-based substances, you can still use acrylated urethanes such as the Dymax Speedmask 906-B-Rev-A. This makes it eligible for use at plants that refuse to use silicone due to its potential interference with painting processes elsewhere in the facility. Assemblies with paint elsewhere can go on in the plant without fear of splotching or other negative effects.
Another added benefit to using Speedmask E-MAX 906-B-Rev-A is that it is halogen free, which is important in environmental electronic assembly.
The Speedmask 906-B-Rev-A substance is highly thixotropic, and can be dispensed by hand or through an automated nozzle. Whether you are ready to go for full automation on the technology assembly line or are simply interested in speeding up a more manual process, this product is a good potential option.
Ready to speed up your circuit board assembly?
By becoming one of the many high-tech manufacturers to embrace UV lights when creating items that need wave soldering or conformal coating, you can boost the speed and productivity of your assembly line. The 906-B-Rev-A product is compatible with gold and connector pins, and won't slow down your production during either curing or removal. It adheres to lead, ceramic, PCB, flex and silicon substrates.
If it's time to launch a new component, the investment in the UV equipment or conveyor system can pay off in added efficiency. The primary question to ask yourself is whether the expected quantity of goods you'll be producing makes that spending worthwhile. If you have not checked the prices of industrial equipment recently, it can also pay to check on the market — the setup costs associated with UV light have fallen.
Whatever your exact needs or situation, Gluespec is your resource for data on industrial masking agents, adhesives and encapsulants. Compare, contrast and perform research using Gluespec to ensure your manufacturing process is fully optimized to suit the products you are responsible for manufacturing.