 Using LOCTITE® 454™ is a Valid Option for Engineers Working with a Wide Variety of Materials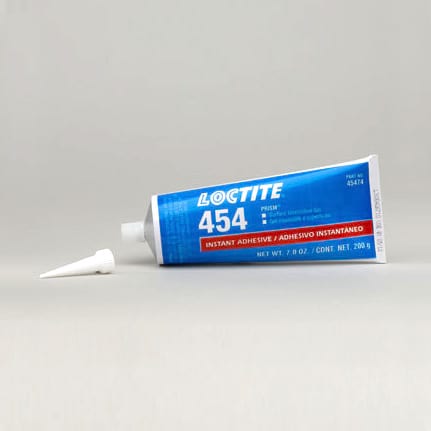 When to Use LOCTITE® 454™ as an Adhesive
Choosing the correct adhesive for your next industrial project means finding a substance that works with the substrates you're using, while also fitting in with your processes. One of the top choices is LOCTITE® 454™, part of Henkel's Prism family of adhesives.
LOCTITE® 454™ is an ethyl cyanoacrylate, closely related to 401. Both of these options are designed to bond a wide variety of substrates, including plastic, metal, wood, and even paper or leather — basically everything except glass. What makes 454 unique is that it is a high-viscosity thixotropic gel rather than a water-thin, low-viscosity option, which gives it gap-filling capability.
Important Use Case Questions for LOCTITE® 454™
With its versatility and ease of use, it's easy to imagine using 454 when you need an adhesive. It's important to verify, however, that this is truly the correct substance for your requirements. Asking a few critical questions can help you tell whether this ethyl derivative is the ideal fit, or if you should turn to a different option.
How Quick and Easy a Curing Process Do I Need?
One of the main reasons why engineers pick LOCTITE® 454™ and its fellow instant adhesives is that they are extremely user-friendly. These one-component substances work like the industrial equivalent of home superglue, bonding surfaces without any complex requirements. In the case of 454, full functional strength is developed in a relatively short time, and curing continues for at least 24 hours depending on the bond line thickness. Humidity helps the bond occur, so engineers should make sure the air has some moisture.
UV fast cure acrylated urethane products can be an alternative to when you need fast cure combined with peel strength in your application. However, this would require the added step of UV exposure. With that said, this extra step is sometimes important: UV acrylated urethanes support more gap fill, as long as the UV light can fully penetrate the adhesive. While ease of application is valuable, it cannot be the only factor when choosing the right adhesive.
What Substrates Do I Want to Bond?
Using LOCTITE® 454™ is a valid option for engineers working with a wide variety of materials. Approved for porous and nonporous substrates, it may prove especially useful when bonding two very dissimilar components. While methyl adhesives are good for metal and ethyls in general are suited to plastics, the Prism series is meant to span all categories.
For example, if you need to attach a rubber gasket or seal to a module made of metal or plastic, 454 may be the perfect option. It has even been used to bond the various components of a high-tech hunting arrow, from the sharp tip to the feathered fletching. The one exception where substrates are concerned is that 454 is not intended for use on glass.
What Type of Motion and Environment will the Component Experience?
It's important to think about the forces exerted on your adhesives before choosing one. While LOCTITE® 454™ possesses resilience in many regards, including a high level of tensile strength, peel strength is another matter. With a finished component that will experience peel strength, there are better suited adhesives available such as a UV acrylated urethane, rather than a cyanoacrylate adhesive.
The environmental conditions are also an important consideration. While 454 will hold up on items that sometimes become wet, it should not be used on objects deployed underwater, or that experience a continuous flow — it is water soluble. Here, UV acrylated urethanes may be an option depending on the design. Furthermore, if the temperature affecting the finished piece is expected to rise above 200F-210F, 454 may not be the right choice, depending on the bond strength required.
How Much Gap Fill is Required?
There is a spectrum of gap fill ability among adhesives. Whether bonding parts or sealing joints, engineers need to think about where their substance of choice falls on this metric. LOCTITE® 454™ falls in the middle, with its gel-like nature allowing it to provide up to 10 thousands of an inch gap, though not more.
A low-viscosity (water-thin) adhesive such as 401 is best for surfaces that sit flush against each other and that do not require a gap fill. Next in line is 454, which has non-slumping properties and can fill a small gap. With UV acrylated urethane products you can achieve gaps up to a quarter of an inch if subjected to full exposure of adhesive.
LOCTITE® 454™: A Versatile and User-Friendly Adhesive
When selecting an adhesive for your next industrial manufacturing project, there are a few go-to choices worth inspecting early in the process. LOCTITE® 454™ and its fellow Prism series chemicals are on this list, as their ease of application and ability to bond to a vast selection of substrates make them many engineers' ideal solution where adhesives are concerned.
With that said, even the most versatile substance will fall short in some use cases. To compare and contrast a multitude of options, you can use Gluespec. By building a customized grid of materials and their traits, it's possible to create a clear, actionable vision for your next project.