 Lubricants In-depth: Grease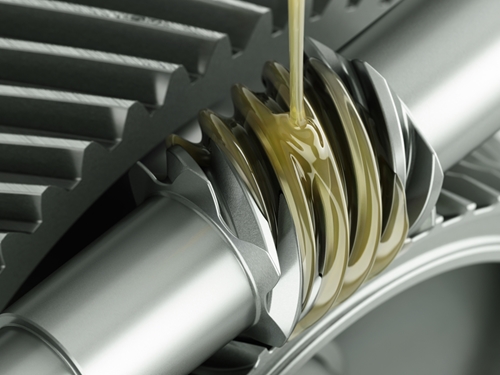 Grease lubricants are a type of lubricant that combine lubricating oil and solid lubricants. They're used in a range of applications from industrial to automotive and work similarly to all lubricants - by creating a physical barrier between two surfaces that allows them to slide past each other, with lower friction and thus less wear and heat.
What is Grease?
Grease is a combination of both an oil carrier and thickening agent, along with various additives including solid lubricants. Greases are distinct from oils in that they flow less easily - this makes them less well-suited to heat-dispersion applications, but better suited for long-term and more heavy-duty applications. They are somewhat less load-bearing than pastes or solid lubricants, but flow more easily - allowing better wetting of surfaces. They fall into a unique classification, combining both the hydrodynamic lubricating properties of liquid lubricants (like oil) and the low-speed/high-pressure lubrication afforded by solid lubricants.
"Greases can provide excellent protection from corrosion and rusting."
What are grease lubricants used for?
Greases make excellent lubricants for bearings, slides, conveyors, chains and gears, as well as a host of automotive uses. All lubricants provide some level of friction reduction, but greases offer some other advantages as well. Noise reduction is one benefit, in automotive or other environments, for which greases have been specifically formulated. Greases can also provide excellent protection from corrosion and rusting by creating an air and moisture barrier on wetted surfaces.
Thickeners and Additives in Greases
In addition to a base oil, greases are altered to fit specific applications with thickeners and solid-lubricant additives. Thickeners are generally a mineral soap, typically calcium, lithium or aluminum. They provide consistency, functioning somewhat like a sponge releasing oil under pressure and absorbing it when pressure is released.
Calcium-thickened greases generally have high water and wash resistance and operate well under low to medium temperatures.
Lithium greases have good all-around properties, and provide excellent low-temperature performance.
Aluminum greases offer good high-temperature and oxidation resistance.
Complexes of these thickeners can also be used, and generally result in higher temperature resistance. Other additives can further improve performance. Among the most common types of solid-lubricant additives are molybdenum disulfide (MoS2), polytetrafluoroethylene (PTFE) and graphite.
Each thickener and additive performs well on a different range of surfaces and environments including load and temperature. Some thickeners and base oils are compatible and can be used in combination, while others are not compatible.
Special Formulations of Greases
Greases can be formulated to meet a number of specific needs. High- and low-temperature greases are available for temperatures up to 180C and as low as -50C. Some silicone-based greases can operate in temperatures down to -75C and as high as 275C. Greases can also be formulated that are particularly resistant to water, where washout or corrosion is a concern. Likewise, chemically resistant greases are available for use in chemical processing equipment or where lubricating grease might come in contact with fuel or solvents. For food processing equipment, greases have been formulated that meet FDA 21 regulations and are classified H1 for incidental food contact.
Categories