 Static Mixers for Adhesive Dispensing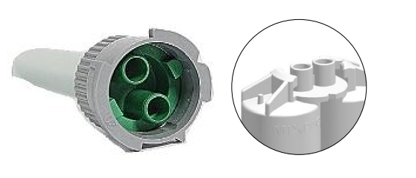 Static mixing nozzles, sometimes called mix tips or just static mixers, are used with adhesive cartridge systems or meter mix dispensing systems.
Their function is to accept multiple streams of adhesive (usually two – resin and hardener) and completely mix and dispense the adhesive to the work area. Static mixers are available in a multitude of sizes and connections to meet both the mixing requirement and proper connection to the cartridge or meter mix equipment.
Disposable static mixers do not have moving parts and consist of a plastic housing or tube with a fixed plastic "spiral" insert. As the adhesive is forced through the mixer by the applicator or the meter mix equipment, the insert effectively combines the material many times by folding it to achieve a complete and uniform mixture.
How to Select Static Mixers
The static mixer that is right for your application will depend on several criteria:
• The proper connection for your equipment
• Adhesive characteristics such as viscosity, pot life, and its thixotropic nature.
• Application specifics such as the desired shot size and planned dispense rate.
Attachment Configurations for Disposable Static Mixers
Disposable static mixers are available in a variety of attachment configurations.
Bayonet Twist Lock
The bayonet twist lock is quite common for 25/50/75ml side-by-side cartridges. Here are some examples:

Newer MedMix Mixpac (previously Sulzer) System B 25/50/75ml cartridges employ a separated outlet attachment method. MBH and MBQ series static mixers are designed for these cartridges. These mixers use a unique attachment method to fit the System B cartridges.
MBH Series
Here is an example of the MBH series that accepts 1:1 and 2:1 mix ratios:

MBQ Series
Here is an example of the MBQ series that shows the different attachment method to the cartridge: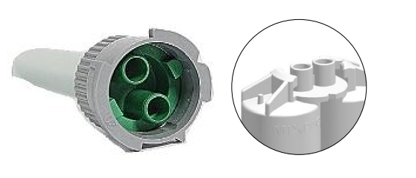 MBHX Series
Note: The MBHX series is for 4:1 and 10:1 mix ratio System B 50ml cartridges. The attachment configuration is the same, with allowance for the mix ratios.

MedMix MC Series
The traditional MedMix System C 200/400ml cartridges employ a bell mouth attachment, as do most meter mix equipment. The bell mouth mixer is secured to the nose of the cartridge with a gland nut.
This is a MedMix MC series mixer.

MedMix MCX Series
The MedMix MCX series appear quite similar but are used with 4:1 and 10:1 System C cartridges and have a notch to match up with those specific cartridge types.

Static Mixers
Static mixers used with meter mix equipment are generally attached in the same way but are a bit heavier duty to withstand the higher dispense pressures and often employ a metal shroud over the mixer to prevent swelling and adhesive "blow by."

MGQ Series
A variation of the standard bell mixer has a threaded bell that screws directly onto the cartridge without the use of a gland nut.
Here is an image of the MGQ series:

MedMix System F
The newer MedMix System F 200ml and 400ml cartridges use an attachment with a similar design as the System B with a separated outlet attachment method. These are secured to the cartridge with a different style gland nut. They come in MFH and MFQ series for 1:1 and 2:1 mix ratios, MFHX series for 4:1 and 10:1 mix ratios, and MFQX Quadro style for 4:1 and 10:1 mix ratios. Here is an example of the MFH series static mixer:

Additional Specifications for Static Mixers
When the cartridge size and ratio have been determined and thus the attachment style, the remaining choices are:
• Style of mixer
• Diameter and length of mixer
The primary styles are traditional helical and Quadro (square tube.) The Quadro mixer design performs the mixing function with somewhat less effort and a shorter length than a traditional mixer. The shorter length is quite helpful when used in tight quarters. Properly selected traditional helical and Quadro mixers are both effective.
The diameter selected is a function of material viscosity and projected shot size or bead, with small shot sizes usually working best with smaller diameter mixers and larger diameters for higher flow requirements.
The variable that determines the ultimate length of the mixer is the number of mixer turns or elements - the longer the mixer, the more elements or turns. A significant length of mixer consideration is viscosity of material, especially wide differences between part A and Part B where you will often need to use a longer mixer to achieve a uniform mix. Higher viscosities may also need a longer mixer. If possible, follow the adhesive manufacturers or supplier's recommendation.
The images and examples presented have primarily focused on MedMix, as a leader in the disposable static mixer market. There are other suppliers such as Nordson EFD that supply a wide range of bayonet twist lock and conventional bell mouth mixers.
A newly designed static mixer called Xemex has been developed by Re Mixers. It is available in standard bell mouth and bayonet styles. Unlike other square or helical mixers with 16 striations, Xemex boasts 1,556 striations after three elements, allowing for maximum adhesive performance with minimum waste. The mixer's shorter profile provides greater dexterity in tight spaces. Here is an image of two styles and sizes of Xemex mixers: