 Water-based Adhesives in Furniture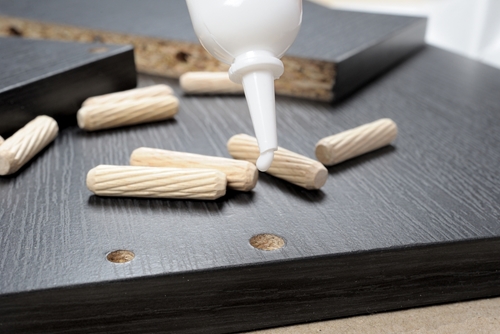 Water-based adhesives for furniture manufacturing are used in applications such as laminating plywood, MDF, and chipboard with HDL, CDL, and veneers.
The furniture and woodworking industry has a variety of different needs when it comes to combining materials. Modern furniture manufacturing often involves laminating large volumes of MDF or chipboard with wood or other veneers. Adhesives play an important part in making this process as quick and economical as possible. Water-based adhesives have long been in use for this purpose, as well as for traditional assembly methods like dowling and finger-jointing.
New formulations of water-based products have been developed to suit modern assembly methods, and can provide a number of advantages over other adhesives, like older Urea-Formaldehyde (UF) glues.
What are water-based adhesives?
Water-based adhesives are dispersions of polymers in water. The polymers can be natural or synthetic, and the most commonly used for woodworking are based on Polyvinyl-acetate (PVA).These glues cure as water evaporates from adhesive, so at least one of the surfaces being bonded needs to be water-permeable. Full-cure can take up to 24 hours and clamping is often recommended, but special techniques can reduce this time. Heat is often used to speed curing time, either with heated rollers, RF or microwave treatment. Pressing with rollers can also eliminate the need for clamping throughout the cure. These glues can exhibit excellent adhesion and long-term strength. Though they are not waterproof, formulations are available that offer different degrees of water resistance suited to both interior and protected-exterior conditions. These formulations are usually rated between D1 (least resistant) to D4 (most resistant)
"Water-based adhesives are dispersions of polymers in water."
What are the advantages of water-based adhesives?
Water-based glues have a number of advantages that have lead to their widespread use in the furniture and woodworking industry. Their ease of use is extremely high - because they are water-soluble both equipment and joined surfaces can be cleaned simply with water. They have relatively long open times, and are easily dispensed in a number of methods allowing great flexibility in their application. They're quite economical, being one of the least expensive adhesives and easy to both obtain and store in bulk. Water-based adhesives offer excellent wetting and adhesion to a number of surfaces, including porous surfaces like wood. Unlike their solvent-based counterparts, or UF glues, there are no VOC or other health concerns with water-based adhesives. With a number of countries tightening VOC regulations, water-based adhesives make a good alternative.
How are water-based adhesives used in furniture manufacturing?
Flat lamination is an excellent fit for water-based adhesives. Laminating plywood, MDF and chipboard with HDL, CDL and veneers are all possible with water-based glues. They can be applied in-line with automated equipment on rollers to service high volumes. Automatic or semi-automatic spraying is another option suited to some applications. Finger jointing and tongue-and-groove jointing are also perfect fits for water-based glues. Additionally, they can be applied again by hand or automatic equipment.