 Contact Adhesives in the Automotive Industry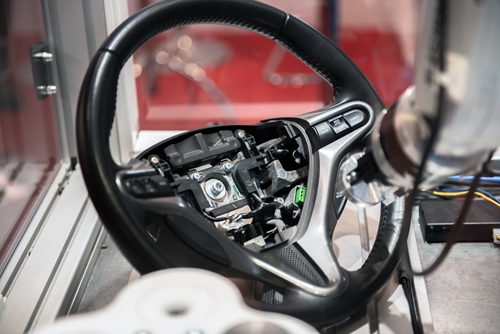 Contact adhesives for automotive assembly are used with interior automotive trim, flooring, and headliners.
The automotive industry is increasingly relying on adhesives to reduce weight, speed up assembly times and streamline vehicles. Contact adhesives can be an excellent choice when adhering interior automotive trim, flooring and other pieces like headliners. These adhesives are unique in that they dry on surfaces before being adhered, which allows for long open times and near instant bonding without clamping. The bond formed is also flexible, making it ideally suited to automotive interiors.
Contact adhesives are formulated from natural or synthetic rubbers (polychloroprene) dissolved in either solvents or water-based compounds. The solvent-based contact adhesives are usually one-part and are often applied via spraying through automated equipment. Manual application with aerosol sprays or brushing is also possible. Water-based formulations can be two-part and mixed as they are sprayed in automatic dispensing systems. Once applied to both surfaces being joined, they need to be allowed to dry, usually on the order of 15-20 minutes before joining. Glue becomes tack-free to the touch, but is extremely adherent to itself, forming fixture-strength bonds in seconds.
"Because of the near-instant adhesion provided by contact adhesives, clamping is not necessary."
Advantages of Contact Adhesives
The unique drying and adhering process of contact adhesives provides advantages not found in other adhesives. Because the glue has already dried, contact adhesives don't need to be exposed to air to cure like other solvent or water-based adhesives. This allows them to be joined in tight fitting spaces and between impermeable surfaces like those used in some automotive dashboards or other trim pieces. Because of the near-instant adhesion provided by contact adhesives, clamping is not necessary. This allows streamlined assembly since pieces simply need to be pressed together. The flexibility of contact adhesives allows them to be used in adhering pieces that will flex, including fabrics, and provides impact and vibration resistance. Although repositioning can be difficult with fully dried glue, as long as one of the joined substrates is porous they can be combined wet to allow for movement.
Key Technical Specifications
Contact adhesives are resistant to thermal cycling, and exhibit maximum strength in temperatures between -30C and 100C. Neoprene formulations particularly have excellent peel and shear strength. They bond well to a variety of surfaces including metals, plastic, leather and laminates, and offer good resistance to moisture and oils.