 Silicones in LED Lighting | Gluespec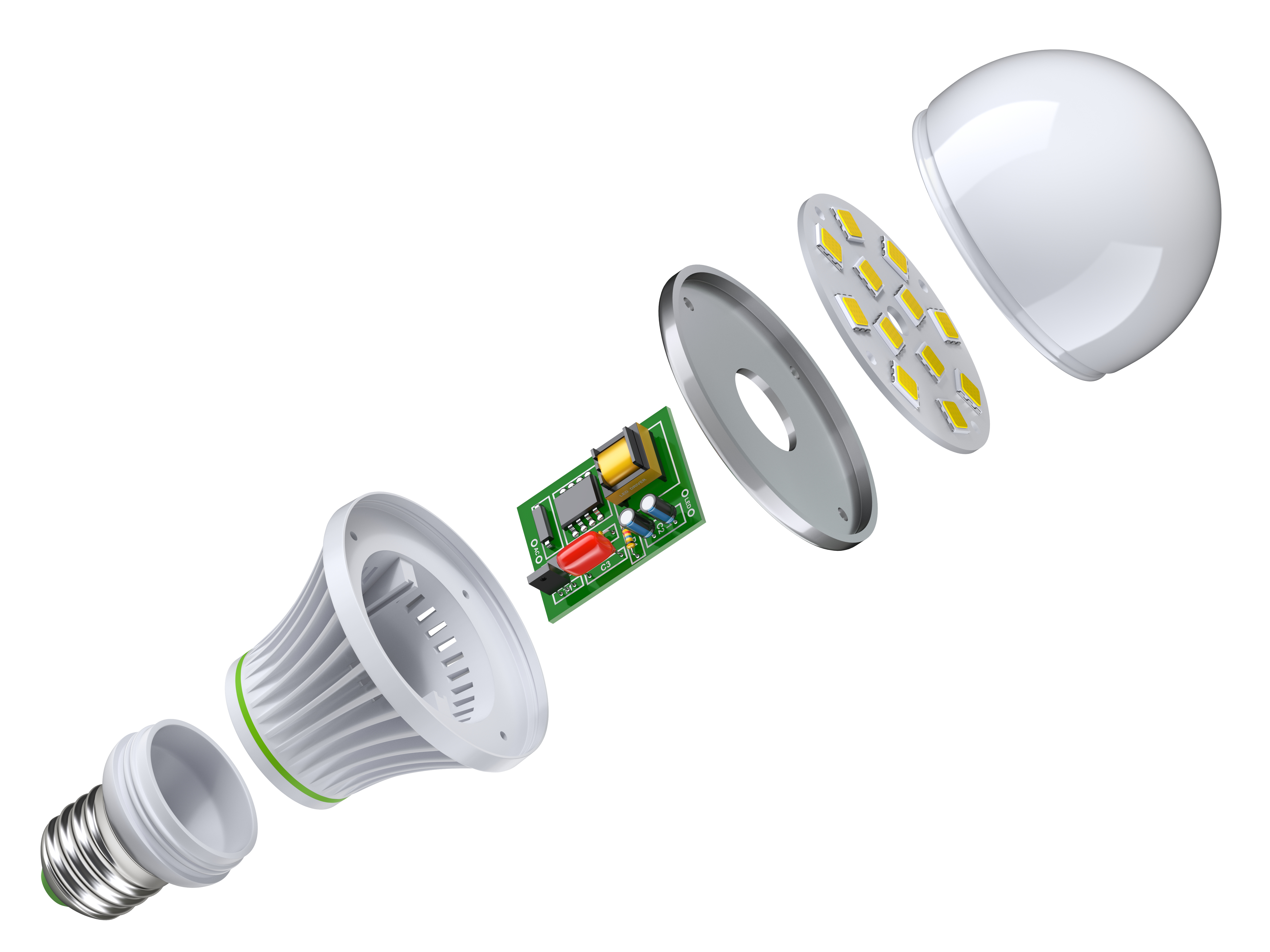 Silicones in LED lighting manufacturing
The design of each new LED lighting product means selecting components to fulfill important roles, from dissipating heat to protecting internal components from the elements. With multiple adhesive and sealant providers now producing formulations specifically with LED compatibility in mind, your options are more open than ever.
By planning out each step of the manufacturing process early in design, you can find the ideal formulation for each requirement. You may be amazed by just how much silicones can accomplish for your LED lights.
Four areas of LED lighting need
The following are four different parts of any LED light design that have to be accounted for. The common thread between each of them is that silicones can play a role in improving both your manufacturing process and the finished product.
Thermal interface materials
Your LED lighting products need reliable thermal conductors to carry heat from the circuit board to the grid that will dissipate the heat. This system keeps your chip below its acceptable temperature range, typically 90 to 105 degrees celsius. Since air is an insulator, you can't leave empty space within the housing. Silicone formulations are often perfect for the job.
High-performance thermal conductive materials are especially important when you are developing lights that output more light in the same housing space as lower-output options. This emerging area of LED development is dependent on picking materials that can handle this increased thermal demand (heat). It is also important to note that the added cost of upgrading to high-performance chemicals is more affordable than redesigning the housing from the ground up to improve heat dissipation and heat sink area (radiators).
Circuit board coatings and pottants
The conformal coatings and potting materials are used to securely encapsulate LED circuit boards and keep moisture, dirt and other environmental factors from damaging the board mounted components and light engine. Your chosen formulation for this part of the manufacturing process will be determined by the intended use of the light.
Light-duty LEDs meant for indoor use naturally require less protection for their components than ones used in settings such as garages or roadside light fixtures. By comparing price points and relative levels of protection from humidity, electrical integrity, shock and other potentially damaging factors, you can pick a conformal coating that matches your LED equipment's intended use.
The adhesive and sealant that connect the internal components of the light will likely be different polymers than your chosen conformal coating, though it's normal for all three to be silicone based.
Perhaps the most important variable to consider when picking your adhesives and sealants is usable life span: How long will a polymer hold up under real-world conditions? This effectively determines the reliability of your LED products.
Moldable optics
The design of the lens, which controls light distribution based on the intended use of an LED light, is another place where silicone formulations can play an important role. Versatile silicones that are easy to work with can enable designers to create lights that fit their needs without adding complexity or expense to the manufacturing process.
The quality of the substances used for optical elements helps determine the long-term viability of a piece of LED equipment. The ideal formulation for your purposes will hold up over both environmental stresses (essentially no lens discoloration versus polycarbonates and acrylics), and the unavoidable heat that comes from LED elements.
Further uses for silicones in LED lighting
Beyond those major categories where silicones can help with LED equipment manufacturing, there are a few more use cases worth considering. For instance, you can select a silicone formulation for threadlocking purposes, holding your threaded components, such as screws, in place and helping the lights resist damage over time.
A silicone-based instant adhesive or hot-melt silicone adhesive could also be the ideal choice for assembly and wire tacking. When you finalize an LED light product design, you may have a list of five or more different silicone formulations, each fulfilling a different role in the manufacturing process and contributing to the performance of the finished equipment.
Alternatives to silicones in LED lighting
Even the most versatile polymer isn't right for every application, and in some LED light manufacturing scenarios, you may be better served by epoxies or urethanes. In lower-temperature scenarios (for example, LEDs used in boats, off-road vehicles and home office lights) it may not be necessary to go with high-performance silicones.
Furthermore, when there are concerns around having a volatile polymer in the manufacturing environment, silicones may not be the right choice. This goes back to the age-old issue of getting paint to adhere around silicones.
Is it time to design your next LED fixture?
When it's time to start the design process for your company's next LED fixture, it can pay to take a closer look at silicones. There may be more use cases for these polymers than you've previously anticipated, as well as new and advanced formulations to deliver better performance.