 The use of UV-cured adhesives in medical devices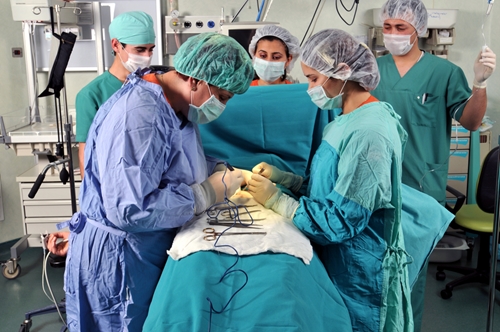 The medical device industry is an ever-expanding market with a demand for more advanced medical equipment expected to rise in correlation with the growing need for health care. With the United Nations predicting the global population to reach nearly 8 billion people in the next five years, the technology to care for these people will have to become more innovative as well.
In the last few decades, medical technology has become more advanced, particularly in the use of UV-cured adhesives. As far back as the 1970s many medical devices routinely used in hospitals on a daily basis were actually made of metal, rubber or glass, which presented their own sets of issues for doctors and patients alike.
Not only were these materials more prone to breakdowns, but they also contributed to the spread of infectious diseases because hospitals frequently reused the same equipment. Before the practice of using devices a single time and then disposing of them became the industry standard, equipment was typically fastened mechanically or molded into shape.
However, this process forced manufacturers to spend more time during production to assemble such devices. This created a new market for medical adhesives, which allowed equipment to be produced much more quickly, with a closer eye on conformity across each product.
"UV-cured adhesives remain stable under room temperatures while being solvent free."
The biggest challenge at the time was ensuring the adhesives cured completely and in a timely manner. But with the introduction of UV curing into the medical field, automated UV curing processes eliminated initial concerns over the viability of adhesives bonding medical equipment parts.
Initially, cyanoacrylates and epoxies were used for bonding, but by the mid 1980s UV-cured adhesives were the most commonly used medical adhesive on the market. Even today, UV-cured adhesives are essential to the formation and safety of catheters, syringes, endoscopes, IVs, hearing aids, medical filters and a host of other devices that require USP Class VI or ISO 10993.
UV curing increases efficiency
UV curing effectively removed the early concerns over medical adhesives because of its quick curing properties. Because UV curing doesn't rely on evaporation for a complete cure, the process occurs almost instantly once under the presence of ultraviolet light. Through polymerization, a chemical reaction occurs within the compound itself, enabling curing at a faster rate than other types of adhesives.
Because of this, medical device manufacturers are able to speed up production lines and assemble, ship and sell equipment much more efficiently. Plus, the amount of materials needed in total is reduced, which serves as a cost-saving measure for manufacturers and allows for fast throughput. As a result, many medical devices are made from single components, which simplifies and streamlines the manufacturing of devices. Also, manufacturers use robotic dispensing systems, which makes it easier to apply adhesives compared to manual application.
Key properties of UV curing
Another important feature of UV-cured adhesives is that they remain stable under room temperatures while being solvent free. As such, certain adhesives like silicone UV curables are effective in bonding substrates to silicone surfaces because of a dual curing process that relies upon a quick UV cure in the initial stages of assembly, then a slower moisture cure. This creates a stronger bond and a tighter seal for silicone substrates, which can sometimes prove difficult to adhere.
Further, because there are largely no harmful chemicals or solvents contained in UV-cured adhesives, their use is not prohibited by volatile organic compound (VOC) limitations. In some states in the U.S., certain compounds are forbidden because of their volatility, however, UV-cured adhesives are not affected by this ban, which makes them more economical and widespread in medical technology.
Many UV-cured adhesives are also preferred due to their aliphatic nature which avoids yellowing under fluorescent or UV light. This provides a more aesthetically pleasing product and reduces any degradation by this means. Because UV curing occurs so quickly, the amount of time for dust and other small particles to settle into the adhesive is minimized.
The aforementioned properties of UV curing made it more cost-effective for hospitals to transition to single-use equipment. This move helped reduce the chance of diseases spreading among patients who may have previously been subjected to unsterile syringes. With medical tools only used once, UV-cured medical adhesives essentially helped created a more sanitary patient care environment.
Consistent quality in UV Cured adhesives for medical devices
Manufacturers can now use a traceable hand-held radiometer to verify correct exposure, and hence, cure of the UV adhesives. This process control ensures conformity across all products. New technology in the fields of optical assessment and machine vision also let manufacturers confirm the complete cure of all UV adhesives on the spot in addition to inspecting 100 percent of the production line more quickly.
Another technology actually changes the color of the adhesive to indicate that it is fully cured, doing away with the need for further inspection.
These systems have streamlined the production processes of medical device manufacturers and have helped fuel the further evolution of UV-cured adhesives.
Finding a supplier of UV cured adhesives for medical devices
With the U.S. Department of Commerce indicating the total medical device industry in the U.S. is set to surpass $133 billion next year and make up nearly 40 percent of the entire global market share, engineers, hospitals and manufacturers all have significant need to find the optimal supplier of the best UV-cured adhesives.