 Thermal Adhesives Guide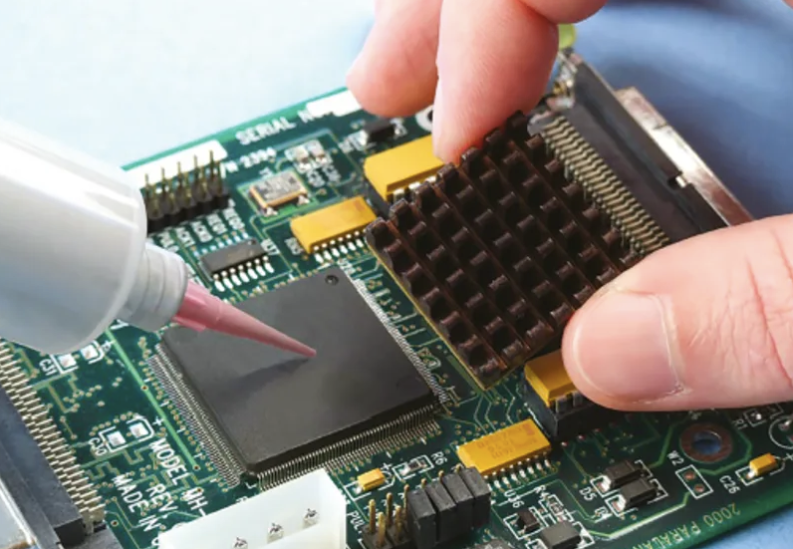 This guide explains what design engineers need to know about selecting thermal adhesives, a category of materials you'll find on Gluespec. These products are thermally conductive, meaning that they help to move or transfer heat from a warmer area to a cooler one. In the electronics industry, thermal adhesives are used for bonding heat sinks, passive heat exchangers that transfer the heat generated by electronic components to a fluid medium, typically air or a liquid coolant. Thermal adhesives are also used with batteries in electric vehicles, LEDs, smart meters, headlamps, and other products that generate heat.
As their name suggests, thermal adhesives combine bonding with thermal management. They also eliminate the need for clips, screws, or rivets for smaller, lighter products. Importantly, thermal adhesives are readily conformable to surfaces and fill the gaps between components and substrates. Although they are not as thermally conductive as metal, thermal adhesives have a greater thermal conductivity (TC) than air, which helps to promote heat dissipation. TC, a numeric value that describes a materials ability to conduct heat, is a key specification, but design engineers also need to consider substrate compatibility.
Thermal adhesives are supplied as liquids, films, or tapes and typically with epoxy, silicone, acrylic, or polyurethane. Epoxies offer superior bond strength but silicones combine excellent high-temperature resistance with greater flexibility, an important consideration in assemblies where components have different coefficients of thermal expansion (CTE). To provide thermal conductivity, adhesive resins are filled with metallic or inorganic materials. In some products, silver fillers are used to impart electrical conductivity. Inorganic fillers include minerals such as aluminum oxide.
Types of Thermal Adhesives
Gluespec divides thermal component adhesives into three main categories and makes it easy to search for materials online.
Within each category, you can search for products based on technical specifications for curing, bond strength, material resistance, thermal conductivity, and other properties, such as tensile strength and flame resistance. The following sections describe each category of thermal adhesives in detail. You'll also find links to technical resources with additional information, either in the Gluespec Knowledge Center or from other trusted resources.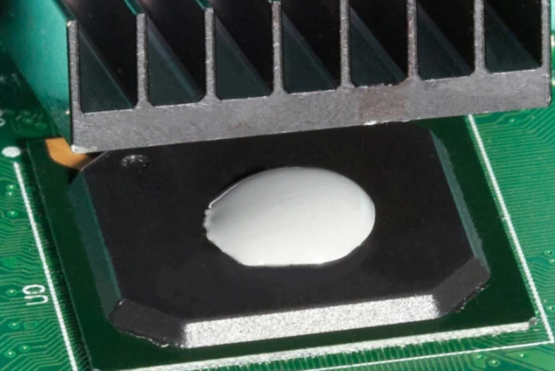 Thermal Liquid Adhesives
Thermal liquid adhesives are flowable and support dispensing. Two-component (A/B) products require mixing, but one-part products do not. Design engineers can choose thermal adhesives that support primer-less adhesion and that come in low, high, or medium viscosities. Also available are thixotropic products that can be dispensed but will stay in place after they are applied. Self-leveling adhesives achieve a consistent height to promote more uniform heat dissipation.
There are two curing methods for thermal adhesives: heat cure and room-temperature cure. Heat-curing adhesives require the use of ovens and provide a high degree of process repeatability because of greater temperature control. Room temperature curing adhesives do not require ovens, which reduces energy expenses and supports sustainability initiatives. Curing is faster at higher temperatures, however, and that reduces work-in-process. Thermal liquid adhesives that can cure either with heat or at room temperature are also available.
Applications for thermal liquid adhesives include:
Heat sinks
Smart meters
Displays
Integrated circuits (ICs)
Headlamps
Tech Specs
Here are some of the technical specifications for thermal liquid adhesives like Dow Dowsil 1-4173.
| | | |
| --- | --- | --- |
| Type | Spec | Definition |
| Cure | Cure Time (min) | The length of time needed for something to fully cure |
| Bond Strength | Shear Strength (psi) | The ability of a material to resist forces that cause the material's internal structure to slide against itself. |
| Conductivity | Dissipation Factor | A measure of loss-rate of energy of a mode of oscillation (mechanical, electrical, or electromechanical) in a dissipative system |
| Other Properties | Specific Gravity | The ratio of the density of a substance to the density of some substance (such as pure water) taken as a standard when both densities are obtained by weighing in air |
Resources
Here are some additional resources about thermal liquid adhesives.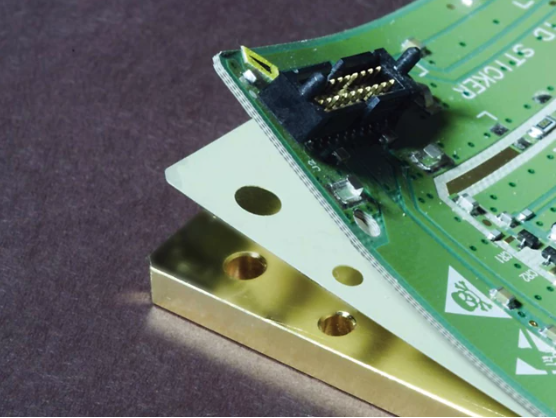 Thermal Film Adhesives
Thermal film adhesives consist of a thin, thermally conductive adhesive layer and, sometimes, a carrier or backing that provides structural support and dimensional stability. Pressure-sensitive adhesives (PSAs) are typically used, but some thermal film adhesives are cured with heat or with both heat and pressure. Among PSA thermal film adhesives, the use of solvent-based systems is common, especially with acrylic or polyurethane chemistries. Because they have a consistent height, thermal film adhesives are inherently self-leveling so that heat is dissipated more evenly.
There are two main types of thermal film adhesives. The first consists of products that are thermally conductive but electrically insulating. The second consists of products that are both thermally conductive and electrically conductive. To achieve both types of conductivity, silver fillers are used. For high-volume manufacturing, sheets or rolls of thermal film adhesives can be die cut into specific shapes and then applied to substrates, either by hand or with automated equipment. Among their advantages, thermal film adhesives are less messy to apply and won't spread beyond the desired footprint.
Applications for thermal film adhesives include:
Heat sinks
Metal backplanes
Silicon wafers
Electrical assemblies
Dies and ICs
Tech Specs
Here are some of the technical specifications for thermal film adhesives like Henkel Loctite Ablestik CDF 200.
| | | |
| --- | --- | --- |
| Type | Spec | Definition |
| Cure | Work/Pot Time (min) | The length of time in which multiple part coatings or paints can be applied to a substrate |
| Bond Strength | Shear Strength (psi) | The ability of a material to resist forces that cause the material's internal structure to slide against itself. |
| Conductivity | Electrical Conductivity (mhos/cm) | A property of materials that determines how well a given material will conduct electricity |
| Other Properties | Glass Transition Temperature (Tg) (°F) | The temperature at which a polymer changes from a hard, glassy state to a soft, rubbery state |
Resources
Here are some additional resources about thermal film adhesives.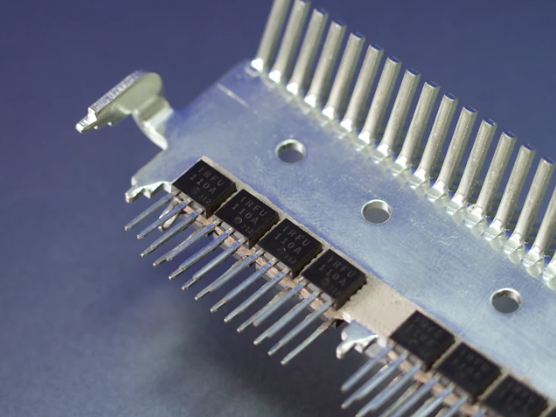 Thermal Tape Adhesives
Thermal tape adhesives have a thermally conductive PSA on one or both sides of a carrier or backing. Typically, the carrier is a foam material that also provides cushioning and compressibility. Thermal tape adhesives that use closed-cell foams are recommended for environmental sealing, but products with open-cell foams are used for vibration dampening instead. Thermal tape adhesives include a release liner, often coated with silicone, that protects the adhesive layer and is peeled back before use. Common color for these tapes include white, black, gray, and charcoal gray.
Like other types of thermal adhesives, heat transfer tapes come in a choice of adhesive chemistries. Typically, however, acrylic adhesives are used because they combine strong bonds with long-term aging and high-temperature resistance. These and other types of thermal tape adhesives can be removed cleanly and reworked without a significant loss of adhesion. For higher volume applications, thermally conductive tapes can be die cut from sheets or rolls and then applied to substrates. Among their advantages, thermal tape adhesives have a consistent height but are available in a range of thicknesses.
Applications for thermal tape adhesives include:
Automotive dashboards
Computers and printers
Recessed lighting
Aircraft lights
Military electronics
Tech Specs
Here are some of the technical specifications for thermal tape adhesives like 3M Single-Coated Vinyl Foam Tape 4714.
| | | |
| --- | --- | --- |
| Type | Spec | Definition |
| Cure | Application Temperature (°F) | The temperature at the point the adhesive/tape is applied |
| Bond Strength | General Bond Strength (psi) | The amount of adhesion between the bonded substrates |
| Conductivity | Dielectric Strength (V/mil) | The electrical strength of an insulating material |
| Hardness | Elongation % | The process of becoming or making something longer, and often thinner |
Resources
Here are some additional resources about thermal tape adhesives.
Gluespec is Your Source for Thermal Adhesives
Gluespec's comprehensive and quality-tested database of 28,000 adhesive materials includes the thermal adhesives that design engineers need. The materials and manufacturers in our database are not limited to specific suppliers, and data is quality-checked and updated as needed whenever new data sheets or product specifications are released.
If you need deep data on thermal adhesives and other materials, you'll find what you're looking for in our proprietary adhesives database. Along with technical data and key specifications, you'll find best practices and comparable materials. Design engineers can also view test method information on dozens of material properties and data points.
Finally, Gluespec's Advanced Search provides the tools you need to conduct deep filtering among all material properties. The result is a customized grid that contains materials and data points that are specific to your project. Save custom grids for quick access and share them, along with this Thermal Adhesives Guide, with your colleagues.
Categories