 Electronic Component Adhesives Guide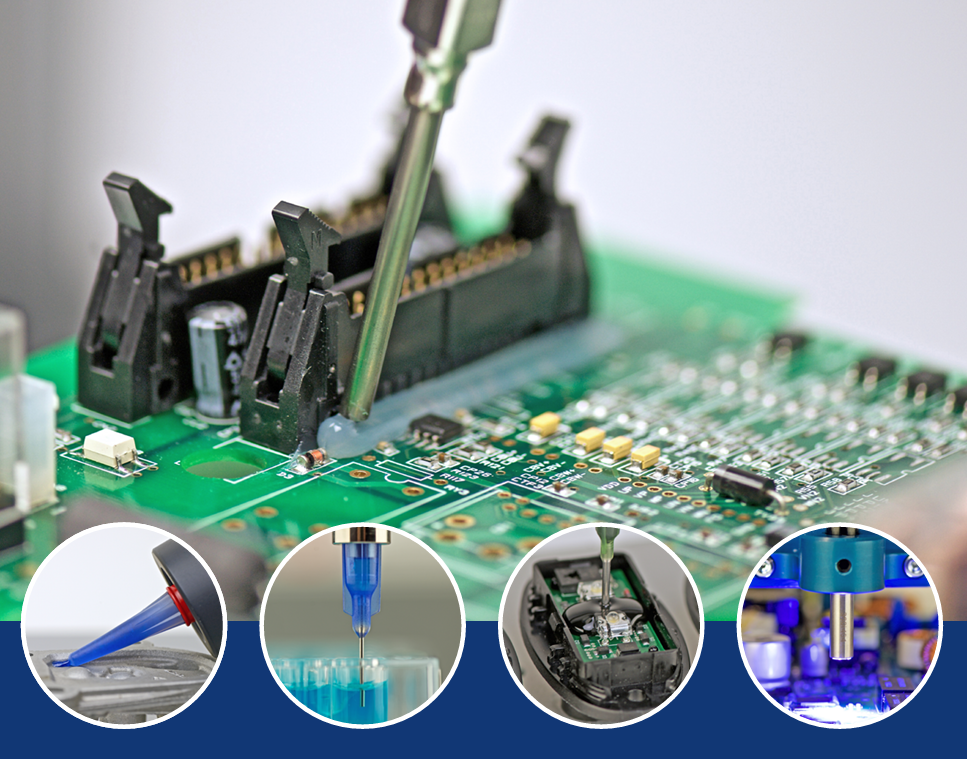 This guide explains what design engineers need to know about selecting electronic component adhesives, a category of materials you'll find on Gluespec. As their name suggests, these products are designed to bond electronic components, discrete devices that are used to build electronic circuits, to substrates. Typically, electronic component adhesives are used for surface-mounting parts to printed circuit boards (PCBs). Yet they're also used for potting and encapsulation, substrate assembly, and electronic repairs.
Whether electronic component adhesives are used in place of soldering or in conjunction with it, they must bond parts securely. Some adhesives are electrically conductive, but many are electrically insulating instead. Electronic component adhesives can also be either thermally insulating or thermally conductive. In addition to thermal and electrical properties, design engineers need to consider the materials to bond, the environmental conditions, and any application-specific requirements. For example, electronic component adhesives that are used in military electronics may require ruggedization.
The main chemistries for electronic component adhesives are epoxy, silicone, acrylic, and polyurethane. One-part and two-part products are available. Epoxies offer excellent bond strength and chemical resistance. Silicones combine flexibility with excellent high-temperature resistance. Acrylics resist vibrations and thermal cycling, and polyurethanes provide strong and flexible bonds. Curing for electronic component adhesives occurs with light, heat, at room temperature, or in a dual curing process. Products that support automated metering and dispensing can be applied with greater speed and precision.
Types of Electronic Components Adhesives
Gluespec divides electronic component adhesives into eight categories and makes it easy to search for products online. These are the categories:
• Printed Circuit Boards (PCBs)
• Coils
• Sensors
Within each category, you can search for products based on technical specifications for curing, bond strength, material resistance, conductivity, and other properties. The following sections describe each category of electronic component adhesives in detail. You'll also find links to technical resources with additional information, either in the Gluespec Knowledge Center or from other trusted resources.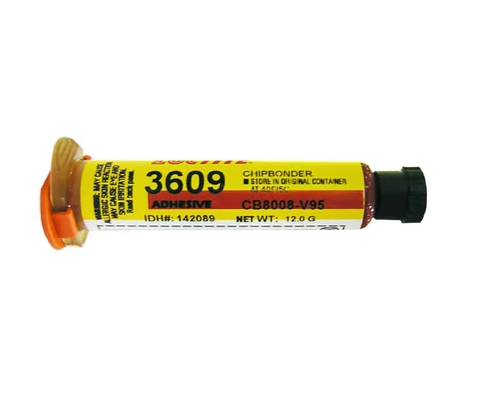 Printed Circuit Board (PCB) Adhesives
PCB adhesives are used in the assembly of printed circuit boards. They bond and secure components such as resistors, capacitors, and integrated circuits (ICs) to the surfaces of PCBs, which are made of materials such as metals, plastics, ceramics, or glass. Electronic components that use surface mount technology (SMT) are also made of various materials but are generally smaller than parts that use through-hole technology (THT) with metal pins.
PCB adhesives often need to bond dissimilar materials, and some products are filled with metal or metal-coated particles to provide electrical conductivity. Staking adhesives support component leads, withstand vibrations, and can replace mechanical attachments such as fasteners. Often, these PCB adhesives are used for structural bonding. For high-temperature applications, design engineers can choose thermally-conductive PCB adhesives that dissipate heat, the enemy of reliable electronics.
Applications for PCB adhesives include:
• Bonding surface-mounted devices (SMDs) to PCBs
• Staking component leads
• Replacing solder or mechanical fasteners
• Electrical conductivity
• Thermal management
Tech Specs
Here are some of the technical specifications for PCB adhesives like Henkel Loctite 3609.
| | | |
| --- | --- | --- |
| Type | Spec | Definition |
| Cure | Viscosity (cPs) | A measure of a fluid's resistance to flow. |
| Bond Strength | Shear Strength (psi) | The ability of a material to resist forces that cause the material's internal structure to slide against itself. |
| Conductivity | Dissipation Factor | A measure of loss-rate of energy of a mode of oscillation (mechanical, electrical, or electromechanical) in a dissipative system |
| Other Properties | Specific Gravity | The ratio of the density of a substance to the density of some substance (such as pure water) taken as a standard when both densities are obtained by weighing in air |
Resources
Here are some additional resources about PCB adhesives.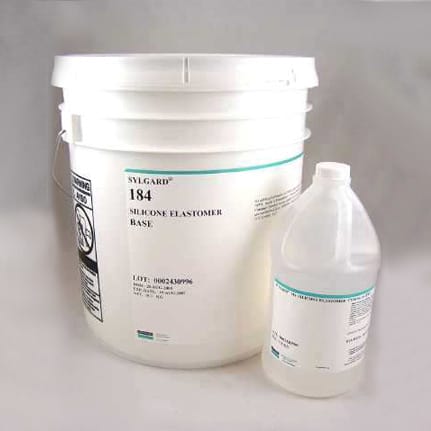 Amplifier Adhesives
Amplifier adhesives bond and secure voltage, current, or power amplifiers to printed circuit boards. Voltage amplifiers increase the output voltage of the signal, and current amplifiers increase the amplitude of the input current compared to the input current waveform. Power amplifiers include audio, radio frequency (RF) and direct current (DC) devices that carry Class A, B, AB, or C designations. Operational amplifiers and instrumentation amplifiers also require the use of electronic component adhesives during PCB assembly (PCBA).
In addition to selecting the right type of amplifier for the application, design engineers need to select an adhesive that can withstand the specific operating environment. Amplifier adhesives are designed to withstand specific temperature ranges and resist both dust and moisture. Some products are electrically insulating or have UL 94 flame ratings. Chemistries, cure methods, and colors vary. Products come in one-part or two-part (A/B) forms and include solvent-free formulations for greater environmental sustainability.
Applications for amplifier adhesives include:
• Bonding amplifiers to PCBs
• Providing electrical conductivity or insulation
• Protection against the application environment
Tech Specs
Here are some of the technical specifications for amplifier adhesives like Dow Sylgard 184 Silicone Elastomer.
| | | |
| --- | --- | --- |
| Type | Spec | Definition |
| Cure | Linear Shrinkage (%) | Escape of volatile substances or chemical changes that result in volume decrease or contraction of a material. The amount of dimensional change during the cure process. |
| Material Resistance | Ozone Resistance | The ability of a material to resist the deteriorating effects of ozone exposure |
| Conductivity | Dielectric Strength (V/mil) | The electrical strength of an insulating material |
| Other Properties | Light Refractive Index (RI) | A value calculated from the ratio of the speed of light in a vacuum to that in a second medium of greater density |
Resources
Here are some additional resources about amplifier adhesives.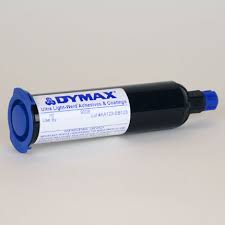 Chip on Board Adhesives
Chip on board (COB) adhesives bond ICs such as microprocessors directly to PCBs. By eliminating the individual packaging of semiconductor devices, COB technology supports smaller, less expensive, and lighter weight footprints. Glob-top, a conformal coating variant that's used in COB assembly, deposits a specially-formulated epoxy or a resin over a semiconductor chip and its wire bonds, providing mechanical support and excluding contaminants such as dust and moisture.
When selecting chip on board adhesives, design engineers need to consider both the substrate and component materials. Some adhesives support dissimilar substrates made of polyimide (Kapton®), glass, metal, ceramic, epoxy board, or PET plastic. Although epoxy chemistries are common in glob-top products, acrylated urethane is also used. For chip on flex (COF) applications with flexible circuits, design engineers may need adhesives that are softer and can resist cracking.
Applications for chip on board adhesives include:
• Bonding ICs directly to PCBs
• Eliminating individual packaging of semiconductor devices
• Greater flexibility for flex circuits
Tech Specs
Here are some of the technical specifications for chip on board adhesives like Dymax Ultra Light-Weld 9008.
| | | |
| --- | --- | --- |
| Type | Spec | Definition |
| Cure | Cure Time (min) | The length of time needed for something to fully cure |
| Material Resistance | Moisture Resistance | The ability of a material to resist the deteriorating effects of moisture |
| Conductivity | Dielectric Constant | The ratio of an insulator's capacitance to that of dry air. A dielectric constant of 10 means the insulator will absorb 10x more electrical energy than air |
| Other Properties | Flash Point (°F) | The lowest temperature at which vapors above a volatile combustible substance ignite in air when exposed to flame. |
Resources
Here are some additional resources about chip on board adhesives.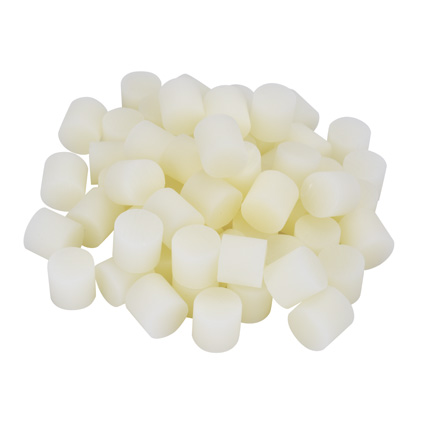 Coil Adhesives
Coil adhesives bond and secure electric or electromagnetic coils to substrates. These electronic components can store and transfer electrical energy or create electromagnetic fields for solenoids. Because coils are usually made of solid copper wire, design engineers may need adhesives that can provide strain relief to prevent connections from breaking. Silicone adhesives that are applied to the backs of connector shells can improve reliability and are non-corrosive.
Coil adhesives can adhere to a variety of PCB substrates and are available in one-part formulations. Hot melt adhesives, or hot glues, are supplied as a solid and liquefy when heated to a temperature above their softening point. Coil adhesives support a variety of dispensing methods and can be applied by machine or by hand. They cure quickly for shorter cycle times and are generally free of solvents for reduced levels of volatile organic compounds (VOCs).
Applications for coil adhesives include:
• Bonding electric coils for power supplies and inverters
• Bonding electromagnetic coils for electric motors or generators
• Providing strain relief
Tech Specs
Here are some the technical specifications for coil adhesives like 3M 3748.
| | | |
| --- | --- | --- |
| Type | Spec | Definition |
| Cure | Application Temperature (°F) | The temperature at the point the adhesive is applied |
| Bond Strength | Peel Strength (piw) | A measure of the adhesive strength of two or more materials that have been bonded together |
| Conductivity | Volume Resistivity (O) | The ratio of electrical resistance through a cross-section divided by length through which current flows (ohms-cm) |
| Other Properties | % Solids (%) | The percentage by weight of the nonvolatile matter in an adhesive |
Resources
Here are some additional resources about coil adhesives.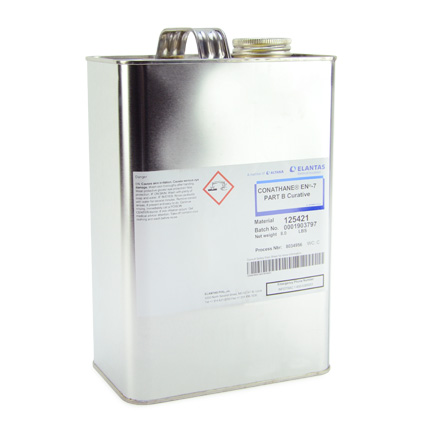 Connector Adhesives
Connector adhesives provide a supplemental bond between PCB connectors and printed circuit boards. Male PCB connectors, or pin headers, attach to PCBs with pins. Female connectors, or sockets, have leads instead. Electronics manufacturers can solder pins and leads in place, but these connections sometimes fail during shipping or while in use. Connector adhesives provide another means of attachment to the PCB and can encapsulate the interconnect to provide protection against contaminants and vibrations.
To encapsulate the PCB interconnect, a large dot or drop of adhesive is poured over the connector and flows downward, covering the connector and bonding it to the printed circuit board. Design engineers need to consider the size of the dot to apply, the number of dots per board, the maximum temperature for the application, and the materials of construction for both the printed circuit and the PCB connector. Hot melt adhesives can be used, but epoxy resins and polyurethane potting compounds can provide medium to low viscosity and penetrate tight spaces on crowded boards.
Applications for connector adhesives include:
• Bonding male connectors (pin headers)
• Bonding female connectors (sockets)
• Encapsulating PCB interconnects
Tech Specs
Here are some the technical specifications for connector adhesives like Elantas (Altana) EN-4 w/ EN-7.
| | | |
| --- | --- | --- |
| Type | Spec | Definition |
| Cure | Work / Pot Time (min) | The length of time in which multiple part coatings or paints can be applied to a surface |
| Bond Strength | General Bond Strength (psi) | The amount of adhesion between the bonded substrates usually measured in pounds pers square inch |
| Material Resistance | Fungus Resistance | Fungus resistance tests are used to determine the reaction of adhesives to several species of fungi under high humidity and a warm environment in the presence of inorganic salts |
| Conductivity | Surface Resistivity (O) | The resistance experienced by the leakage of current along the surface of the coat/insulating material |
Resources
Here are some additional resources about connector adhesives.
Ruggedizing Adhesives
Ruggedizing adhesives combine strong, reliable bonds with protection against exposure to tough conditions such as temperature extremes, salt spray, water, thermal shock, mechanical shock, vibrations, abrasion, and drop testing. For example, military electronics such as radios may need to withstand desert heat, arctic cold, marine environments, and rough handling and storage. 5G and power electronics are subjected to high heat and thermal cycling.
When selecting ruggedizing adhesives, design engineers must also consider factors such as excess heat, airflow, electromagnetic interference (EMI), and electrostatic discharge (ESD). With liquid crystal displays (LCDs) and light emitting diodes (LEDs), ruggedizing adhesives that are clear, transparent, or optically clear may be needed. For outdoor applications, non-yellowing adhesives that provide resistance to ultraviolet light (UV) can support long life. Often, ruggedizing adhesives are used as encapsulants.
Applications for ruggedizing adhesives include:
• Ruggedizing LCD displays
• Encapsulating LED diodes
• Protecting PCB substrates
Tech Specs
Here are some the technical specifications for ruggedizing adhesives like Shinetsu KE-109E A/B.
Type

Spec

Definition

Cure Specs

Mix Ratio

The ratio between the resin and the catalyst needed to achieve the listed properties for the adhesive

Hardness

Durability

The ability of a physical product to remain functional, without requiring excessive maintenance or repair, when faced with the challenges of normal operation over its design lifetime

Elongation (%)

The process of becoming or making something become longer, and often thinner

Flexibility

The ability to bend easily without breaking
Resources
Here are some additional resources about two-component adhesives.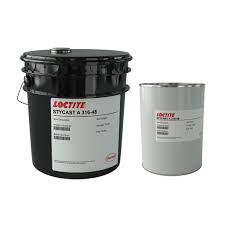 Sensor Adhesives
Sensor adhesives are used in applications ranging from automotive electronics to medical wearables. They provide durable connections to substrates, support efficient assembly, and resist environmental degradation. Because sensors measure physical quantities such as temperature and pressure or dynamic characteristics such as acceleration and rotation, sensor adhesives need to support accurate measurements. For example, a temperature sensor that is near a heat-generating processor may require a thermally conductive adhesive to dissipate heat that could affect external temperature readings.
Many sensor adhesives use epoxy or silicone chemistries. Glob tops and potting compounds can encapsulate sensors and provide protection against chemicals, corrosions, and contaminants. Although most sensor adhesives are used with printed circuit boards, sensors are also used with non-conventional substrates such as woven textiles. Biocompatible adhesives that provide a protective interface between instruments and tissues may be required for medical applications.
Applications for sensor adhesives include:
• Bonding sensors to PCBs
• Bonding sensors to non-conventional substrates
• Dissipating heat and providing environmental protection
Tech Specs
Here are some the technical specifications for sensor adhesives like Henkel Loctite Stycast A 316-48.
Type

Spec

Definition

Cure

Cure Temperature (°F)

The temperature to which an adhesive must be subject in order to ensure that it will cure satisfactorily

Conductivity

Non-conductive

A substance that does not conduct heat, sound, or electricity

Other Properties

Glass Transition Temp (Tg) (°F)

The temperature at which an amorphous polymer changes from a hard/glassy state to a soft/leathery state, or vice versa

Coefficient of Thermal Expansion (CTE)

A material property that is indicative of the extent to which a material expands upon heating
Resources
Here are some additional resources about sensor adhesives.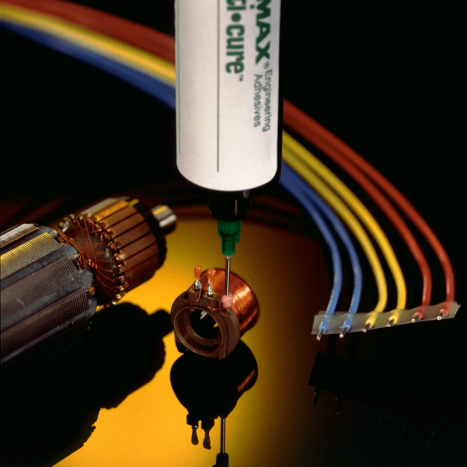 Wire Tacking Adhesives
Wire tacking adhesives are used to secure metal wires to PCB surfaces, typically when vibration is an issue. By holding electrical connections in place, wire-tacking adhesives prevent wires from moving or becoming damaged during the operation or transportation of electronic devices. In addition to supporting proper wire management, wire tacking glues, as they are sometimes called, help to prevent problems such as wire fatigue and short circuits, both of which can reduce device life.
Acrylic, cyanoacrylate, and epoxy adhesives are used commonly to attach wires to PCBs; however, cyanoacrylates are especially popular for electronic repairs because they are quick-setting. Wire tacking adhesives can also be used if a wire-related design flaw is discovered during testing, and the engineer can simply address the issue with the use of an adhesive product. In addition, wire tacking adhesives can be used to fix damaged boards and to address the consequences of improper PCB assembly.
Applications for wire tracking adhesives include:
• PCB repair
• Wire management
• Vibration control
Tech Specs
Here are some the technical specifications for wire tacking adhesives like Dymax Multi-Cure 9-911-REV-B.
| | | |
| --- | --- | --- |
| Type | Spec | Definition |
| Cure Specs | Fluorescent | A surface, substance, or color has a very bright appearance when light is directed onto it, as if it is actually shining itself |
| Bond Strength | Tensile Strength | The maximum stress that a material can withstand while being stretched or pulled before breaking |
| Hardness | Shore D Hardness | The hardness of hard rubbers, semi-rigid plastics, and hard plastics according to the Shore D Hardness test |
| Other Properties | Density | Density is the adhesive's mass per unit of volume. Low density formulations provide increased hardness and stiffness. |
Resources
Here are some additional resources about wire tacking adhesives.
Gluespec is Your Source for Electronic Component Adhesives
Gluespec's comprehensive and quality-tested database of 28,000 adhesive materials includes the electronic component adhesives that design engineers need. The materials and manufacturers in our database are not limited to specific suppliers, and data is quality-checked and updated as needed whenever new data sheets or product specifications are released.
If you need deep data on electronics component adhesives and other materials, you'll find what you're looking for in our proprietary adhesives database. Along with technical data and key specifications, you'll find best practices and comparable materials. Design engineers can also view test method information on dozens of material properties and data points.
Finally, Gluespec's Advanced Search provides the tools you need to conduct deep filtering among all material properties. The result is a customized grid that contains materials and data points that are specific to your project. Save custom grids for quick access and share them, along with this Electronic Components Adhesives Guide, with your colleagues.
Categories