 Electrically Conductive Adhesives Guide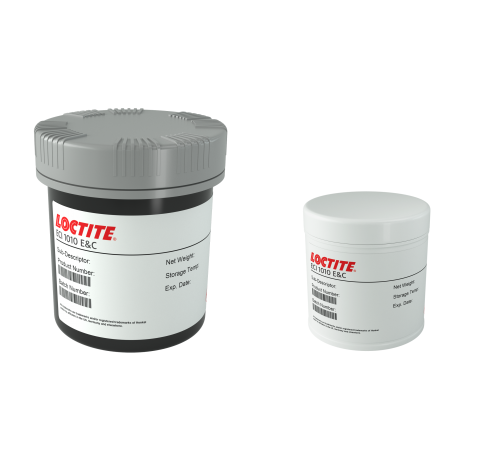 This guide explains what design engineers need to know about selecting electrically conductive adhesives, a category of materials you can find on Gluespec. As their name suggests, these products combine strong, reliable adhesion with electrical conductivity. They consist of a polymeric material that is filled with metal, bimetallic, or metal-coated particles. Polymers are electrically insulating, but metals conduct varying amounts of electricity.
In addition to protection against moisture and high temperatures, electrically conductive adhesives can provide shielding against electromagnetic interference (EMI) and radio frequency interference (RFI). There are also products that provide protection against electrostatic discharge (ESD). Silver-filled adhesives provide the highest levels of electrical conductivity and EMI/RFI shielding; however, they are more expensive than fillers such as nickel or nickel-graphite.
Applications for electrically conductive adhesives include electronics manufacturing for the defense, aerospace, medical, automotive, renewable energy, and consumer electronics industries. Often, these adhesive products are used at the printed circuit board (PCB) level; however, there are also adhesives (such as electrically conductive glues and tapes) for electrical connections and electronic enclosures. Compared to tapes, glues offer higher structural strength combined with a long-term bond.
Types of Electrically Conductive Adhesives
Gluespec divides electrically conductive adhesives into four categories and makes it easy to search for products online. These categories reflect the base material, the type of cure system, and the number of components in electrically conductive adhesives.
Within each category, you can search for products based on specifications such as the material form, supported substrates, and electrical conductivity.
The following sections describe the four categories of electrically conductive adhesives and provide information about material properties and performance, curing, and general advantages and disadvantages. You'll also find links to technical resources with additional information, either in the Gluespec Knowledge Center or from other trusted resources.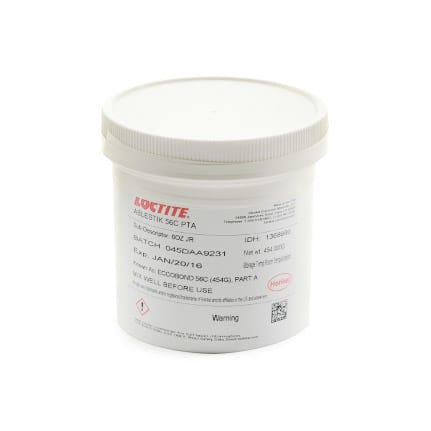 Epoxy Adhesives
Epoxy adhesives form tough, high-strength bonds and combine good chemical resistance with excellent environmental resistance. They bond well to similar substrates and can be used with the metal, plastic, glass, and ceramic materials used in electronics. Epoxies also have good void-filling capabilities and can resist creep under sustained loads. They usually cure at room temperature or with the addition of heat and are available in formulations with a range of cure times.
Unless they are modified, however, epoxy adhesives are hard and brittle after curing. Under stress, this can result in cracking. With two-part epoxy adhesives, optimal curing requires proper mix ratios for best results. Epoxies that cure at room temperature won't work well at operating temperatures over 120°C, so a heat-cured epoxy may be required within an electronic enclosure. One-part epoxies generally require heat to cure but two-part epoxies began curing after the two materials (A+B) are mixed together.
When searching for electrically conductive adhesives, design engineers can choose pastes or liquids, including solvent-free formulations and thixotropic materials. It's especially important to consider all of the application conditions and, in the case of a higher-temperature environment, a specific temperature range. Because 5G electronics are putting more numerous and higher-powered components into smaller spaces, high-temperature resistance is becoming increasingly important.
Applications for epoxy adhesives include:
Electrical connectors

Electronic modules

Radar and guidance systems

Satellite communications

Environments with harsh chemicals
Tech Specs
Here are some of the technical specifications for epoxy adhesives like Loctite Ablestik 56C w/ Cat 11.
| | | |
| --- | --- | --- |
| Type | Spec | Definition |
| Cure | Cure Time (min) | The length of time needed for something to fully cure. |
| Bond Strength | General Bond Strength | The amount of adhesion between the bonded substrates. It is usually measured in pounds per square inch. |
| Hardness | Elongation % | The process of becoming or making something become longer and, often, thinner. |
| Conductivity | Electrical Conductivity (mhos/cm) | A property of materials that determines how well a given material will conduct electricity. |
Resources
Here are some additional resources about epoxy adhesives.
Silicone Adhesives
Silicone adhesives resist higher temperatures than epoxy adhesives and provide long-lasting heat resistance without a significant loss in properties. With their low modulus of elasticity, silicones can also absorb some of the stress that results from the material expansion and contraction that occurs at different rates when electronic substrates (such as glass and plastic) have different coefficients of thermal expansion (CTE). By contrast, epoxies have a higher modulus of elasticity and are less stress-relieving.
Electronics can fail for a variety of reasons, but moisture is one of the most common causes. Silicone adhesives have excellent hydrolytic stability and allow water vapor to pass through, which can help to limit corrosion. Despite these advantages, silicone adhesives demonstrate poor adhesion to a variety of substrates. They are also less resistant to aggressive fluids than epoxy adhesives and cannot be painted or coated because of their low surface energy.
Silicone adhesives come in one- or two-part formulations and support the use of various curing methods. Evaporative drying occurs at room temperature and does not require the use of ovens; however, it can be time-consuming. Moisture curing uses the moisture in the air to initiate curing. Heat curing applies thermal energy to initiate or accelerate cross-linking. Ultraviolet curing requires irradiation at a specific wavelength and energy intensity. Instead of liquids, pastes, or gels, designers can choose tapes.
Applications for silicone adhesives include:
PCB grounding
Electronic devices
Electrical connections
E-mobility solutions
Microelectronics
Tech Specs
Here are some of the technical specifications for silicone adhesives like Dowsil EC-6601.
| | | |
| --- | --- | --- |
| Type | Spec | Definition |
| Cure | Viscosity (cPs) | A measure of a fluid's resistance to flow. |
| Bond Strength | Shear Strength (psi) | A material's ability to resist forces that cause the material's internal structure to slide against itself. |
| Hardness | Flexibility | The ability to bend easily without breaking |
| Conductivity | Volume Resistivity (ohms-cm) | The ratio of electrical resistance through a cross-section divided by length through which current flows. |
Resources
Here are some additional resources about silicone adhesives.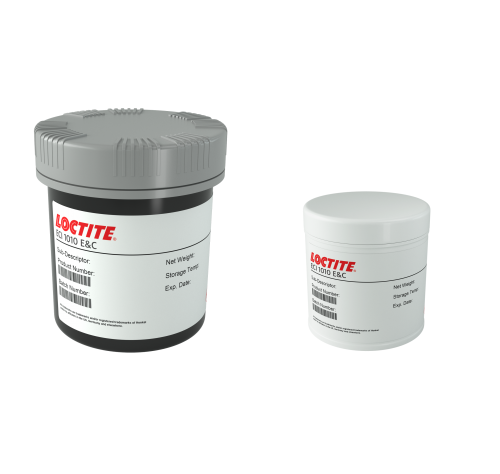 Heat Cure Adhesives
Heat cure adhesives use applied heat, typically from an oven, to initiate or accelerate the chemical crosslinking of the polymer. Because heat curing requires the entire assembly to reach the prescribed cure temperature before the cure time starts, significant time and energy are required. Cure temperatures and durations vary, but some heat cure adhesives now offer rapid curing at higher temperatures for faster throughputs. There are also dual cure adhesives where heat curing is optional.
The benefits of heat curing include greater bond strength and toughness. Heat curing also increases hardness, rigidity, impact resistance, and chemical resistance. Although heat curing improves wetting and lowers viscosity, it is important to consider that high temperatures can damage some electronic components. Heat curing may be used alone or in conjunction with another curing mechanism to accelerate curing.
Electrically conductive heat cure adhesives have epoxy or silicone chemistries and can be solvent-free or solvent-based. There are also halogen-free formulations and products that contain volatile content. Both one-part and two-part products are available. During adhesive selection, design engineers can specify both the cure time and the cure temperature, as well as properties such as bond strength and material resistance.
Applications for heat cure adhesives include:
Radar systems
Satellite communications
Guidance systems
Electrical connections
Electronics equipment
Tech Specs
Here are some of the technical specifications for heat cure adhesives like Loctite Ablestik CT 5047-2.
Type

Spec

Definition

Cure

Work / Pot Time

Pot life is the length of time in which multiple part coatings or paints can be applied to a surface

Thixotrophic

A thixotrophic fluid is one that takes a fixed time to return to its equilibrium viscosity when subjected to abrupt changes in shear rate

Other Properties

General Bond Strength

The amount of adhesion between the bonded substrates. It is usually measured in pounds per square inch.

Outgassing

Outgassing, sometimes called offgassing, is the emission of occluded gases from a material by vacuum, heat, or pressure.
Resources
Here are some additional resources about heat cure adhesives.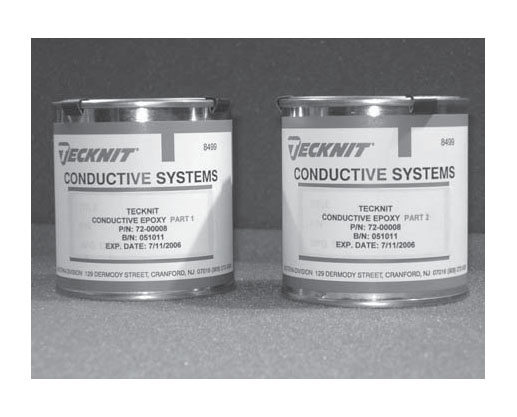 Two-Component Adhesives
For many electronic applications, two-component (A/B) adhesives are used. A resin and a hardener are mixed together and the hardener triggers polymerization, the joining of monomer molecules to create polymer chains. In turn, this bonding reaction increases the adhesive's strength. Often, two-component adhesives are used for high-stress applications where there are significant temperature changes, vibrations, or mechanical shock. This makes them a good choice for electronic devices.
Although two-component adhesives support mechanical and dosing and mixing, they can also be applied using double-chamber or side-by-side cartridges. There is a specific mixing ratio, such as 1:1 or 10:1, that must be followed. Unlike one-part adhesives, two-component products cure when they are combined. In other words, they generally do not require moisture, heat, or light. The advantages of two-part adhesives include their high bond strength and ability to adhere to a wide variety of substrates.
Unlike one-component adhesives, however, two-component systems can't be used straight from the drum, pail, or tube. They require careful metering and mixing, and sometimes a catalyst is needed to speed the reaction between the resin and the hardener. Two-component systems may also require degassing, the removal of a gas from a solid or a liquid. Still, two-component adhesives remain an attractive option because they tend to impart better physical properties.
Applications for two-component adhesives include:
Conductive plastics
Radar and satellites
Guidance systems
Sporting equipment
Military electronics
Tech Specs
Here are some the technical specifications for two-component adhesives like Cho-bond 1029.
Type

Spec

Definition

Cure

Linear Shrinkage (%)

Escape of volatile substances or chemical changes that result in volume decrease or contraction of a material. The amount of dimensional change during the cure process.

Work/Pot Time (min)

The length of time in which multiple part coatings or paints can be applied to a surface.

Bond Strength

Peel Strength (piw)

A measure of the adhesive strength of two or more materials that have been bonded together.

The ability to resist that cause the material's

Other Properties

Specific Gravity

The ratio of the density of a substance to the density of some substance (such as pure water) taken as a standard when both densities are obtained by weighing in air.
Resources
Here are some additional resources about two-component adhesives.
Gluespec is Your Source for Electrically Conductive Adhesives
Gluespec's comprehensive and quality-tested database of 20,000 adhesive materials includes the electrically conductive adhesives that design engineers need. The materials and manufacturers in our database are not limited to specific suppliers, and data is quality-checked and updated as needed whenever new data sheets or product specifications are released.
If you need deep data on electrically conductive adhesives and other materials, you'll find what you're looking for in our proprietary adhesives database. Along with technical data and key specifications, you'll find best practices and comparable materials. Design engineers can also view test method information on dozens of material properties and data points.
Finally, Gluespec's Advanced Search provides the tools you need to conduct deep filtering among all material properties. The result is a customized grid that contains materials and data points that are specific to your project. Save custom grids for quick access and share them, along with this Electrically Conductive Adhesive Guide, with your colleagues.
Categories